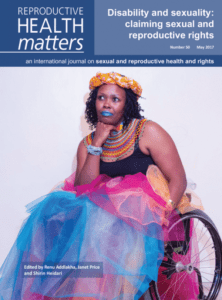 While it goes without saying that people with disability have equal rights to sexual and reproductive desires and hopes as non-disabled people, society has disregarded their sexuality and reproductive concerns, aspirations and human rights. People with disabilities are infantilised and held to be asexual (or in some cases, hypersexual), incapable of reproduction and unfit sexual/marriage partners or parents. The sexual and reproductive health and rights (SRHR) of people with disabilities continue to be contested, and there are particular concerns in relation to women with disabilities. For women, disability often means exclusion from a life of femininity, partnership, active sexuality and denial of opportunities for motherhood.
To learn more about the subject, see the Reproductive Health Matters latest issue about disability and sexuality is now available online and open access- Disability and Sexuality: claiming sexual and reproductive rights.
About Reproductive Health Matters (RHM), it is an international non-profit organisation, promoting universal sexual and reproductive health and rights (SRHR). RHM's peer-reviewed journal publishes high-quality research, in-depth analysis and critical reviews across the spectrum of SRHR, generating knowledge and evidence and inspiring new thinking and action. RHM ensures overlooked SRHR issues are integrated into the research and policy agenda of the international community. RHM engages with international partners around the globe in advocating for investment in SRHR research, rights-based and evidence-based SRHR policies and programmes. RHM targets a wide range of stakeholders, including advocates, civil society, researchers, policy makers and service providers. RHM's regional partners support the dissemination of relevant RHM publications by ensuring translation in several languages.