Below you can find an archive of all Sexual and Reproductive Health and Rights (SRHR) grants awarded by Share-Net International (SNI) since our grants program commenced in 2014. So far, we have awarded more than 90 grants, building SRHR knowledge products designed and researched by our members. The latest version of our grants program - The Knowledge Activation Grants - are launched each autumn. Please see our grants information page and our grants listings page for more information and opportunities.
2022 Grantees: Knowledge Activation Grants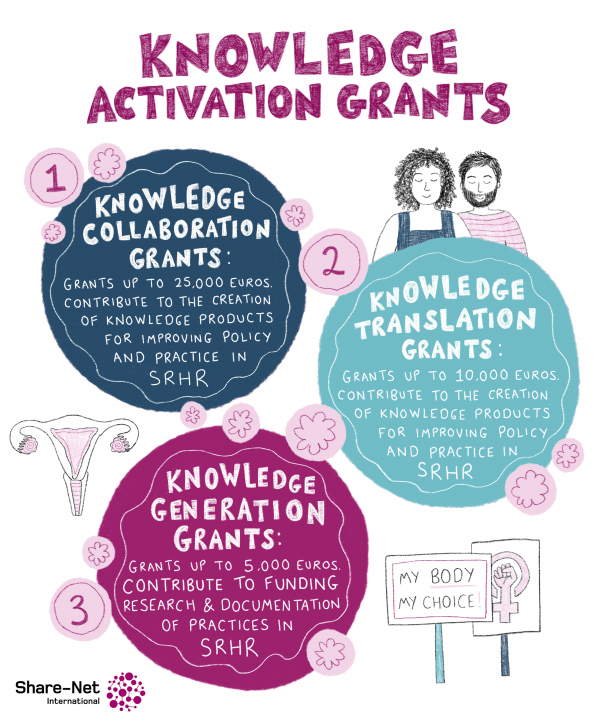 LGBTIQ+ Adaption for Inclusive SRHR Policies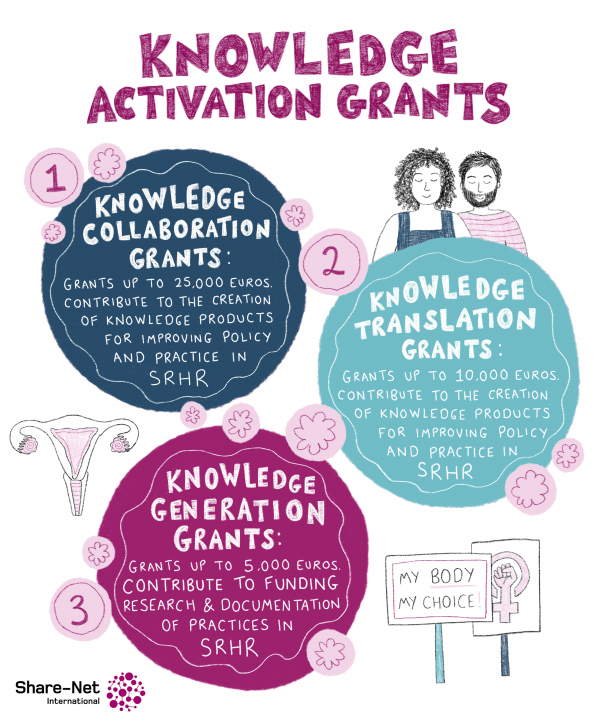 The SRHR of Internally IDP in Northern Ethiopia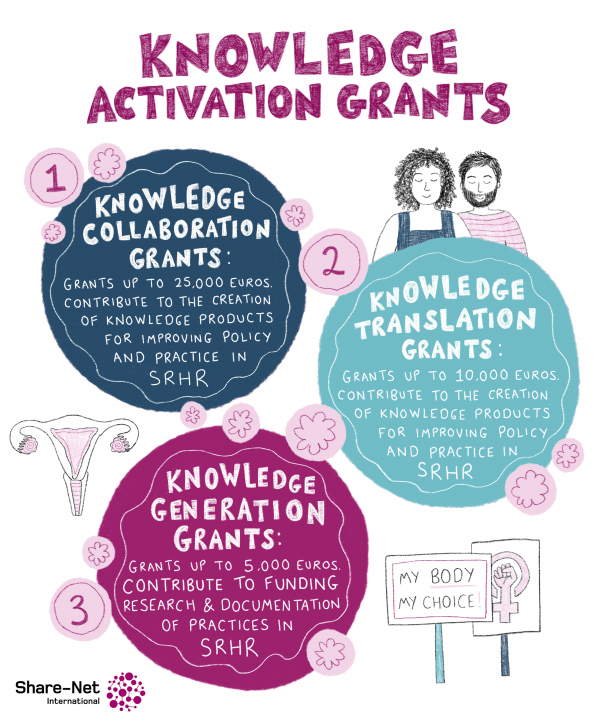 Contraception & Abortion Access: Women, Girls & LGBTQ+ People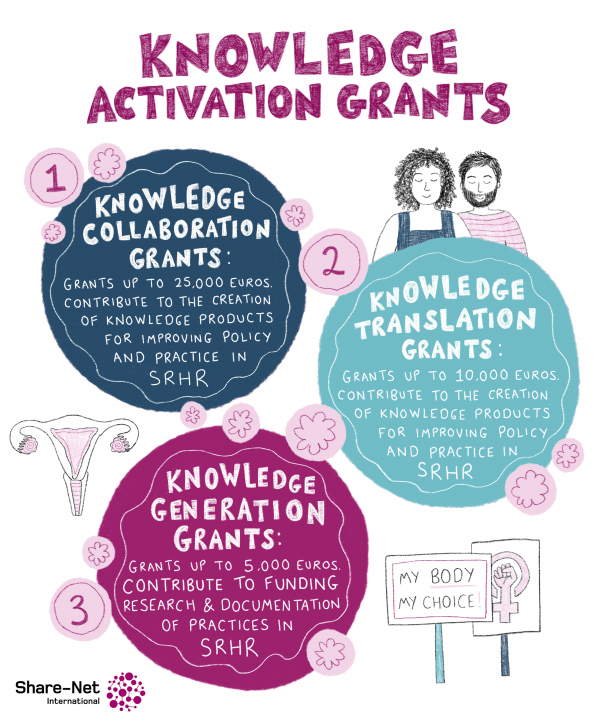 SRHR Information For People With Visual Disabilities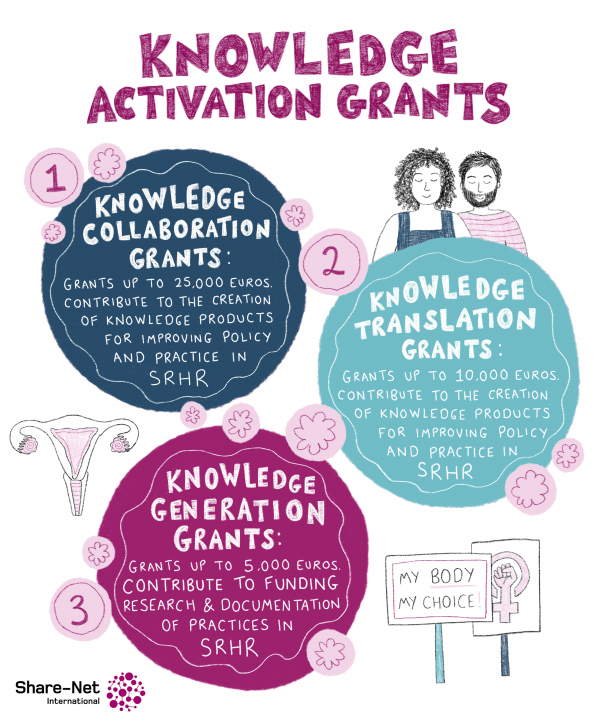 Lack of Factual Access: SRHR Comms for Young People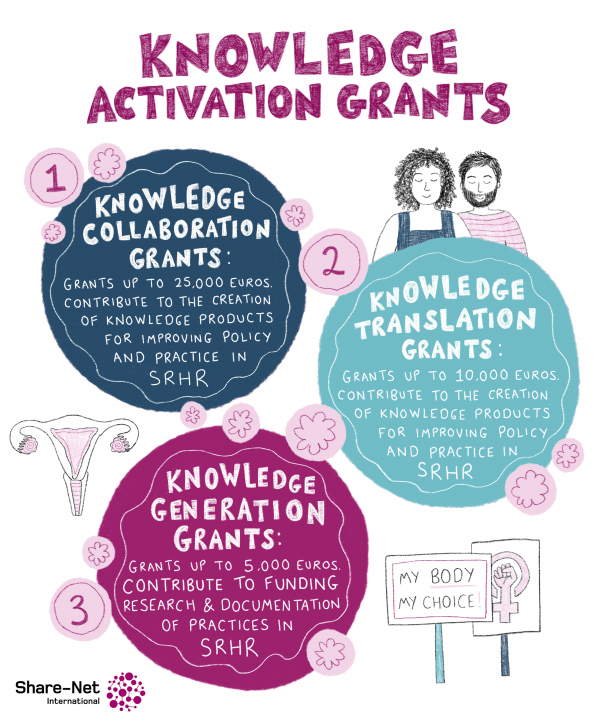 The Gender and SRHR Multimedia Knowledge Database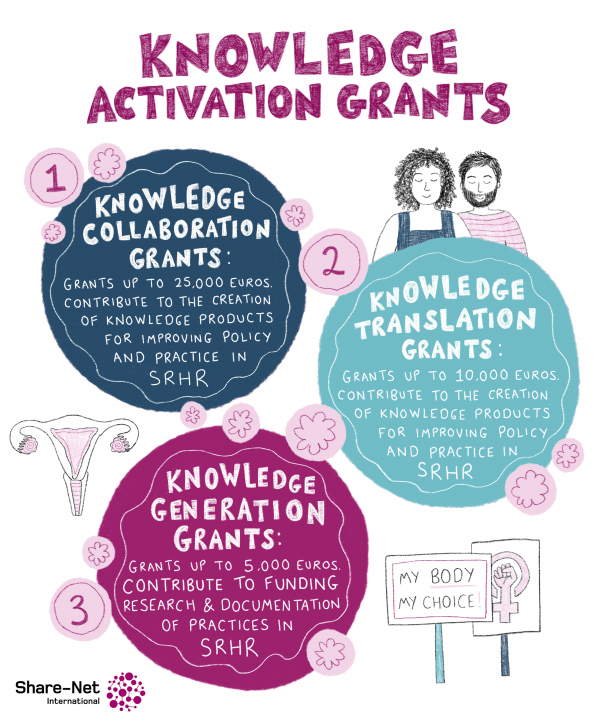 SRHR Training Materials for Young People with Disabilities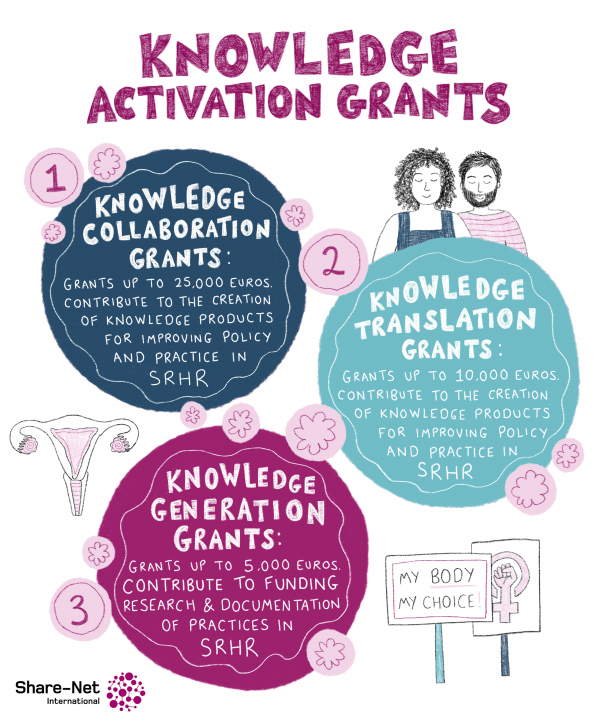 SRHR of Disabled & Vulnerable Groups in Crisis Settings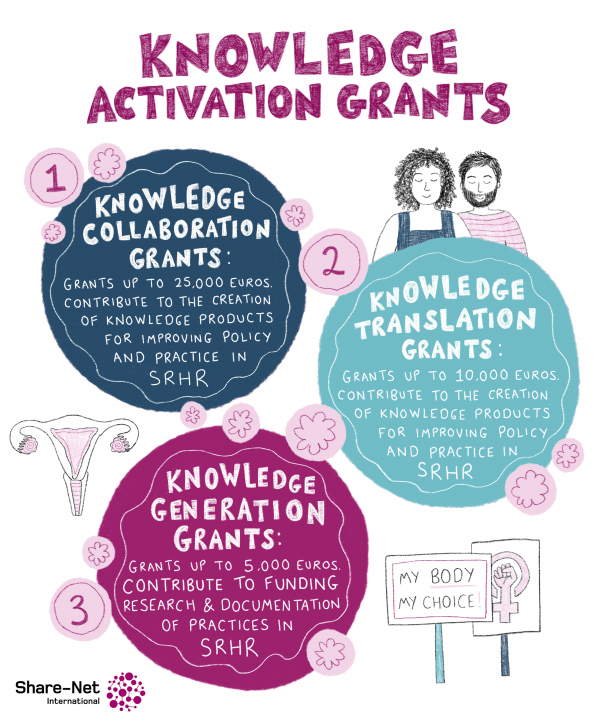 Raising Awareness: Young People's Access to SRHR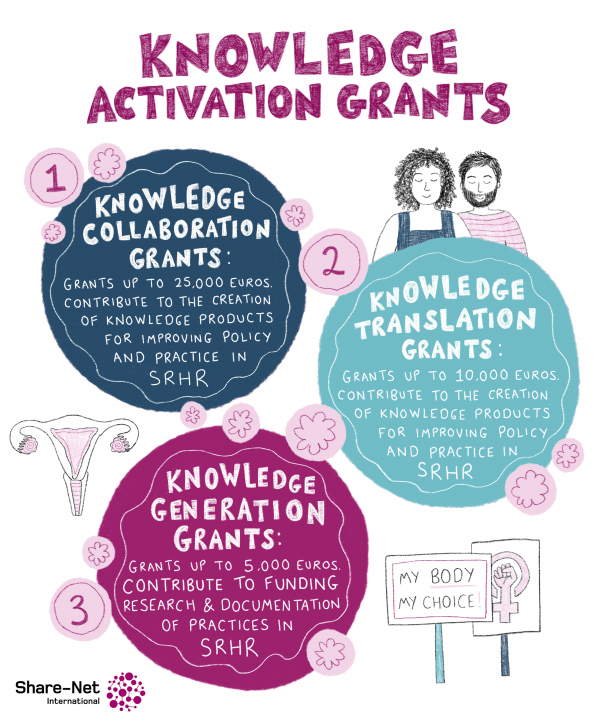 A Call to Action on Female Genital Mutilation: Video Podcast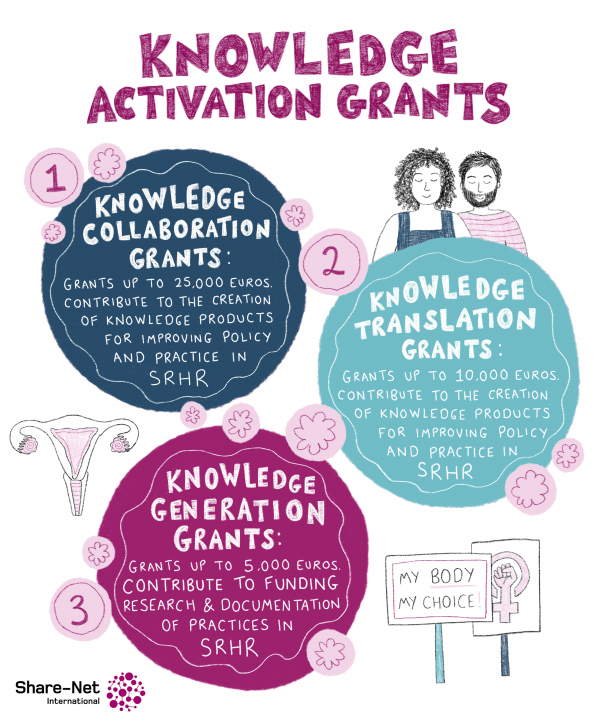 Maternal Mortality: IDP of Afro-Indigenous Descendence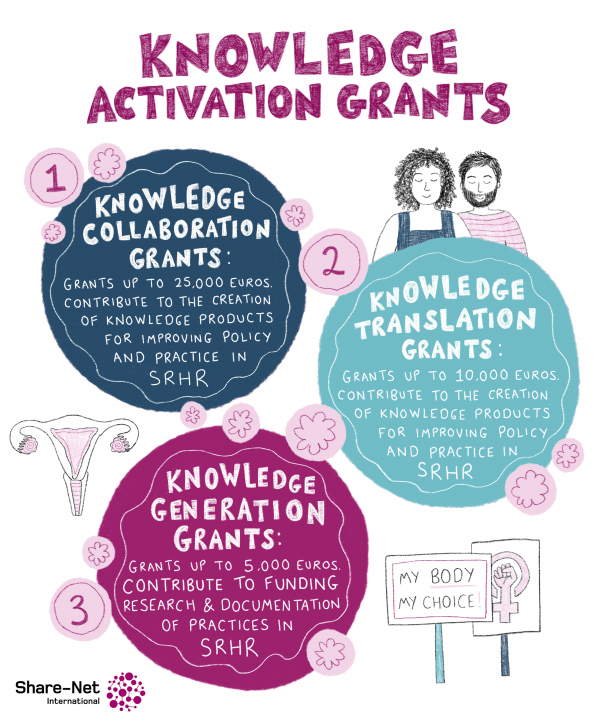 Menstrual Health Documentation for People with Disabilities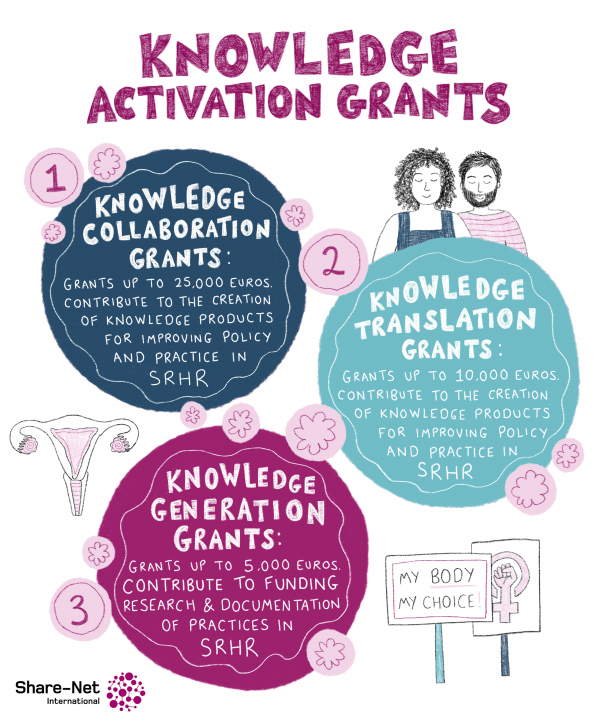 SRHR Knowledge: Young Colombian & Venezuelan Women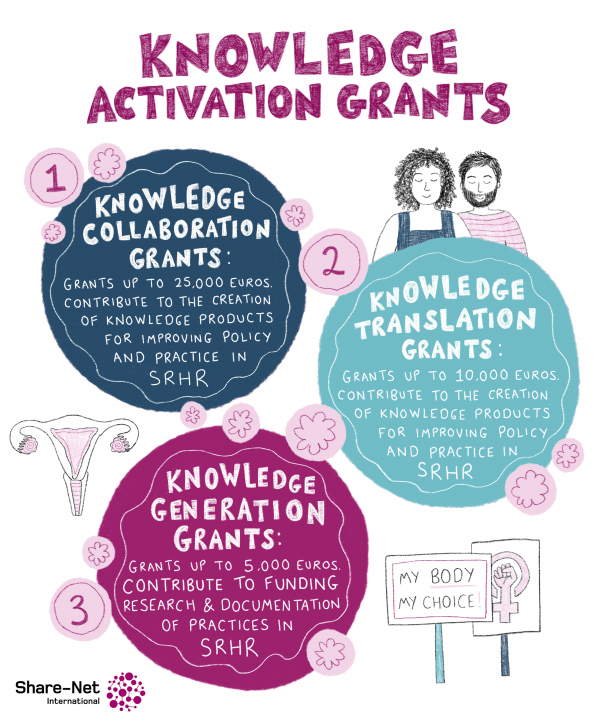 Abortion Training: Advocacy Guidelines, Videos & more
2021 Grantees: Small Grants
Climate Change and SRHR links
Be Your Daughter's Superhero
Cholo Kotha Boli: Youth-To-Youth Podcast
Youth-Know your SRHR policies
Dhee 2.0: Forced LGBTIQ Marriages
FairSpace: Let's Talk Safety in Dutch AZC's
Disabled Youth's SRHR knowledge
Happy accident? Reproductive Decision Making
Against Stigma & Discrimination
University of Groningen: RUG podcast
The Kuziko Game: Sensitive Topics
Correcting Common SRH Misconceptions
2020 Grantees: COVID-19 Grants
SRH services in Nigeria & Cameroon
Trans and Hijra Lives During COVID-19
Gender Perspective: During Coronavirus
Policy Dialogue: GBV & COVID-19
Peer Education 101: For Us by Us
Transforming capacities into SRHR advocacy
Breast Feeding Initiation and Support
Easy access to SRHR during Lockdown
Disability-Inclusive SRHR
Does gamifying SRHR increase knowledge?
Hub Innovation: Youth Skills
Assessing visualisation tool uptake
Digital & Event SRHR Innovation
Factors of school interventions on Menstrual Health
Right to Abortion during Covid-19
Correcting Common SRH Misconceptions
2019 Grantees: Co-Creation Conference Grants
Breaking The Silence on Infertility
Breaking the Silence on Sub/Infertility
Online Activists: SRHR Responses
SRHR in Crisis & Fragility
Know-How of Early Marriage Prevention
2018 Grantees: Small Grants
Where Do They Go? SRHR Services for Single Women in Bangladesh
Deliberative Dialogues: SRHR in Educational Settings in Jordan
Jembatan: Replica & Practical Tool for Integrating Infertility into SRHR
Indonesian Youth: SRHR issues, Self-respect, happiness, & Love
#MenstrualHealthMatters: Solutions & Agenda setting for MHM
Evidence-based Advocacy: Championing SexEd in Europe
2017 Grantees: Small Grants
Documentary: Sexual Diversity in Bangladesh: Narratives of LGB Youth
To Porn, Or Not To Porn? Addressing the Lack of CSE in Ethiopia
Translating SRHR: an English – Bangla Dictionary Application
From Research To Practice: Maternal Health Research in Ghana
Promoting SRHR & Inclusion in Bangladesh's Adolescent Health Strategy
Research & Practice: Translating Research Into Action
Addressing Disrespectful & Abusive Behaviour During Pregnancy
National Capacity-Strengthening: Europe Unite For CSE Rights!
Indicators on the Impact of Integrating SRH in Jordanian Higher Education
Social Norms & SRHR Violations in Nigeria: Research for Influencing
Maternal & Newborn Services: Rapid Health Facility Assessment
Positive Effects of Father's Involvement During Maternity Care
2016 Grantees: Small Grants
Photo Series: Exploring the Sexuality of Disabled Bangladeshi People
CSE, Teachers & In/formal Curricula: Role of Teachers in Enhancing Young Peoples SRHR
GBV in Burundi: Capacity Building of Documentation Systems
Responsive Collaboration in the Cibitoke Province: SSR Promotion
Socio-Cultural Opportunities & Barrier to Family Planning in Jordan
The Status Quo of RH programs for People with Disabilities
Urban Kenyan's Willingness To Pay for Male & Female Condoms
2015 Grantees: Small Grants
Exploring Mental Health Needs & Support Systems: LGBT Population in Bangladesh
Involuntarily Childlessness, Low Cost IVF & Fertility Organisations in Ghana & Kenya
Basic Life Skills for Psycho-Social Wellbeing of Transgender Youth in Bangladesh
Prevention of Disrespect & Abuse During Facility-Based Childbirth in Central Asia
Decoding SRHR: Digital Toolkit For Better Understanding of SRHR in Bangladesh
Mobilising Corporate Resources For Sustainable Youth-Focused SRHR Programs
Safe Motherhood & RH: Capacity Building in Emergency Obstetric & Neonatal Care
Preventing Post-Partum Haemorrhage: Active Third-Stage Labour Management
2014 Grantees: Small Grants
Using Evidence Gathered by Those Living With HIV To Inform Advocacy in Burundi
Experimental Study - Mobile For Mothers: Are Mobile Apps a Way For Improving Safer Motherhood?
The Power of Confident People: Edutainment Approach To Youth Sexuality Education
BUZA's Bridging The Gaps: Health & Rights for Key Populations in Global Alliance
Exploring Youths Explicit Media Usage to Improve CSE Programs: Great Lakes Region
Preparing Bangladeshi Stakeholders for the Introduction of Female Condoms
Gender Analysis: Women and Girls In Charge of Their Own SRH to Fulfil Their Potential in Society
Novel Research-Based Approaches To Contraceptive Choices Amongst HIV-Infected Women
Differences in Rwandan District Performance: Adolescent RH Services & Coverage